Dental Implant Failure Attorney Located in Santa Clarita
We Hold Negligent Dentists Accountable Across California
Although dental implants are a common and generally reliable way to replace damaged or missing teeth, a dentist or oral surgeon's mistake during the procedure can cause serious problems. If the professional performing your procedure was unprepared or unqualified and you suffered as a result, you may be able to pursue a dental malpractice case.
At my firm, The Law Office of Dean Schweitzer, I provide comprehensive representation for clients who have been injured or affected by a failed dental implant procedure. As a dentist myself with over 35 years of experience, I understand what is required of this surgical process and I know what goes into a successful procedure. With this unique experience, I am well suited to address your needs and fight for your rights.
If you've suffered dental implant failure, give me a call at (661) 460-5795or contact me online to schedule a free consultation.
The Results of a Failed Dental Implant
While a successful dental implant procedure may cause some discomfort, severe pain and infection are warning signs that your implant was incorrectly placed.
You should consult with a medical professional immediately if you notice:
Swelling
Constant aching
Numbness caused by nerve damage
A broken or cracked implant
Forms of Negligence in Dental Implant Procedures
While not every failed implant is a result of negligence, there are several types of dental negligence that can contribute to dental implant failure: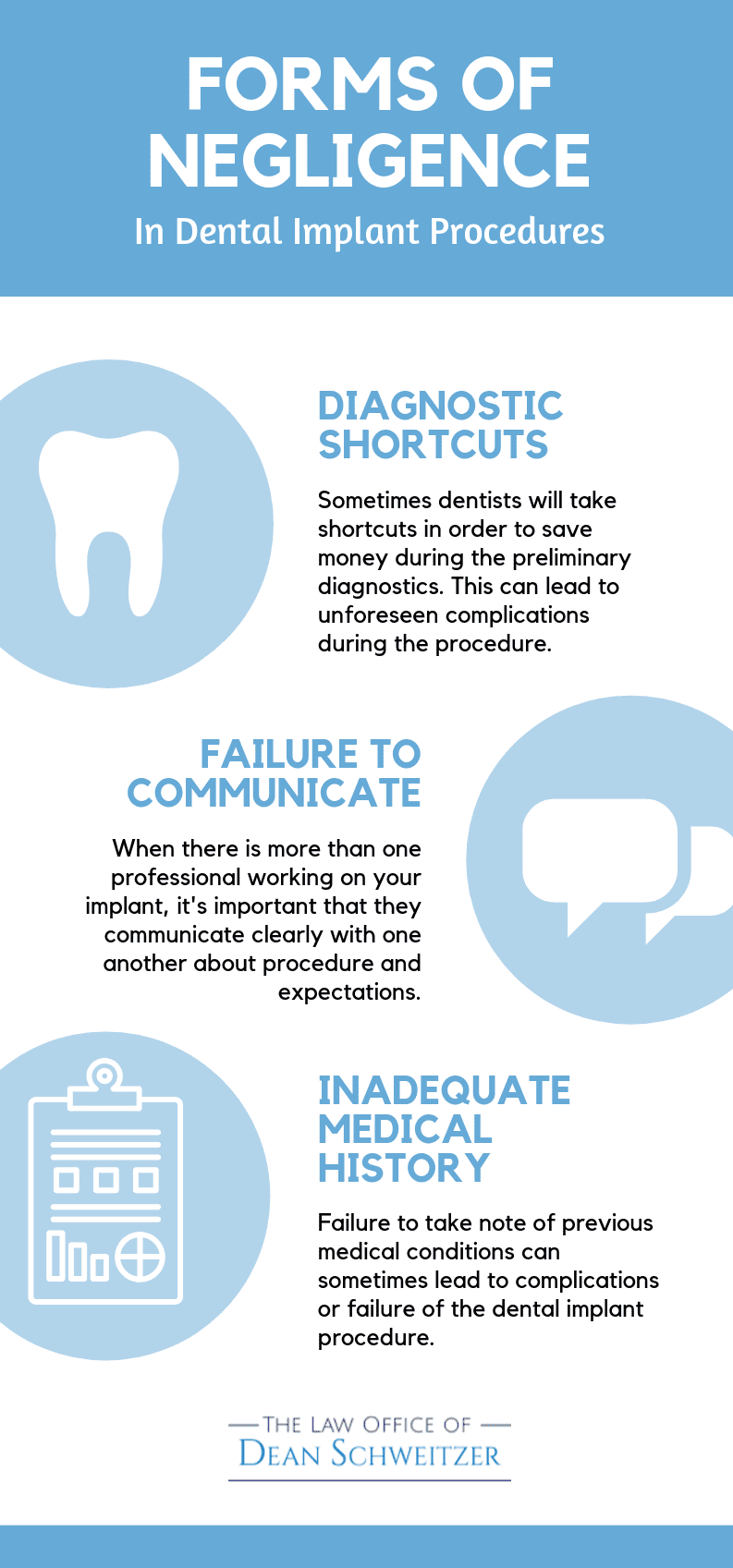 How I Can Fight for You
With a doctor's confirmation that your condition was caused by a failed dental implant procedure, I can help you seek justice and obtain the compensation you deserve.
When I take on a case like this, I perform thorough research and investigate every aspect of the procedure you underwent. I will analyze the details of your appointments leading up to the procedure and the backgrounds of the dentists and employees at the facility. I leave no stone unturned, exploring every option to make sure my representation is strong and effective. If you are seeking a qualified dental malpractice attorney who can provide personalized and results-driven service, count on The Law Office of Dean Schweitzer, located in Santa Clarita.
Contact me online or by phone at (661) 460-5795.