TMJ Attorney Located in Santa Clarita
Helping Patients Throughout California Whose TMJ Was Caused by a Dentist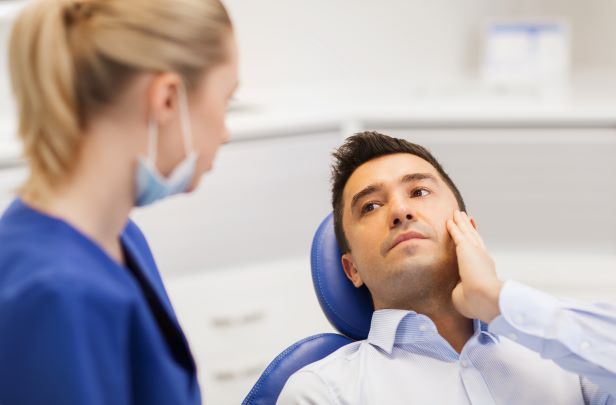 On each side of your head, you have temporomandibular (TM) joints that work with muscles, bones, and ligaments to help you eat, speak, and move your jaw. Conditions that affect your TM joints, facial nerves, and jaw muscles are known as temporomandibular joint disorder, or TMJ.
How Dentists Can Cause TMJ
Uneven and careless dental work can misalign your bite, which puts you at risk of developing TMJ. During a dental procedure, your dentist or oral surgeon is responsible for ensuring that your bite is even.
TMJ can be caused by poor dental work such as:
Poorly placed dental implants
Uneven fillings
Faulty bridges or crowns
Learn more about how I can help with your case of dental malpractice. Contact me online or call (661) 460-5795 to schedule your free consultation!
What Are the Causes of TMJ?
TMJ can be caused by a variety of factors, including:
Stress
Poor posture
And arthritis
Unfortunately, sometimes it can also develop as the result of poor dental work. If you have developed TMJ symptoms shortly after undergoing a dental procedure, consult with an attorney. With extensive experience as both a lawyer and a dentist, I am uniquely positioned to provide effective representation for patients who have been diagnosed with TMJ caused by a dentist.
Can Braces Cause TMJ?
While braces themselves don't cause TMJ, they can if the braces if they are improperly placed.
What Are the Symptoms of TMJ?
Some of the many symptoms of TMJ include:
Ear pain
Head and neck aches
Pain or soreness in the jaw
Clicking or popping of the jaw joints
Difficulty opening and closing the mouth
Tooth pain or tooth grinding
What Are the Treatment Options for TMJ?
While there are several ways that medication can be used to relieve the pain of TMJ, these solutions are usually temporary and treat the symptoms, rather than the source of the discomfort. Oftentimes, in order to treat the source of TMJ, you will need to undergo surgery or have more dental work done to correct the issue caused by your initial dental work.
Surgeries and dental work can be very expensive, especially when you haven't planned for them. In the case of TMJ caused by dental malpractice, you should not be faced with paying these bills on your own. I can help you hold the responsible party accountable and help get you the compensation you need to pay for your dental procedures.
Seeking Justice after a TMJ Diagnosis
The pain, suffering, and expenses you must deal with after developing TMJ are an unfair burden. You should not be responsible for a dentist's negligence or mistake — pursue legal action with my help. As an attorney with over 30 years of experience as a dentist, I have the unique ability to help patients who were the victims of poor dental work.
I am just a phone call away, and I am ready to hear your story and explore your options for recourse. With open communication and unyielding representation, I can help you fight for the compensation you deserve.
Please contact me online or call (661) 460-5795 to schedule a free consultation.